Welcome to Marist Catholic College Penshurst,
A Year 7–⁠12 co-educational Catholic systemic school in the Archdiocese of Sydney. It offers young women and men the environment and opportunities to achieve personal excellence in all areas of school life and beyond. Our approach to education is embodied in the College motto 'Agnoscere Et Diligere' which means 'To Know and Love'.

OUR FAITH AND PASTORAL CARE
Marist Penshurst is first and foremost a Catholic school that has the Gospel at its heart, encouraging students to respond to it with the same faith and generosity expounded by Mary. We practice our faith and strive to live it daily in the way we treat each other, the way we learn and through our social justice programs and outreach service to the community. 
Marist Penshurst is a place where all are welcome, valued, known and supported. Our pastoral care for each student is vital to ensuring the wellbeing essential for good learning. As a community, we support one another and nurture growth as we build on each student's strengths. We aim to foster in our students an empathy with others as well as the self-confidence and drive to transform their world and the world of those around them.
OUR LEARNING PHILOSOPHY
Our vision for learning, 'Aspire to be Inspired', animates and empowers all members of our community to hope and dream. It places a strong emphasis on academic achievement and seeking constant improvement in a safe and caring learning environment. The extensive co-curricular program provides students with opportunities in sport, music, debating, public speaking and a vast range of cultural activities. 
OUR FACILITIES 
Our contemporary learning spaces and facilities, after the 2021 completion of a seven stage building upgrade, include a multi-functional space that serves as both a hall and a state-of-the-art NBA (National Basketball Association) style playing surface. As well, our school hosts performance spaces with music, art and dance studios including a drama theatre, commercial kitchens, science laboratories and TAS workshops. We also have ample playground spaces for all students with dedicated PDHPE facilities on-site. Our excellent teachers, high quality resources and a caring environment, combine to provide the young women and men with a College that enables the challenge and growth necessary for 21st century learners.
OUR INVITATION 
I invite you to view our website to discover the dynamic and diverse learning environment available to our students as well as the spirit and atmosphere that permeates the College and makes Marist Catholic College Penshurst unique. 
Let us share with you the lifelong difference that a Marist Penshurst education can make to your daughter or son. The staff, students and parents look forward to welcoming you.
Mrs Connie Frino
College Principal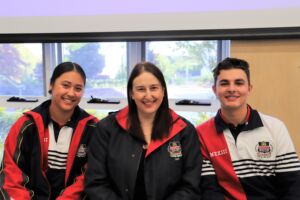 Proudly Part of the Community of Sydney Catholic Schools
Our school is part of a system of 147 low-fee Catholic schools in the Sydney Archdiocese.
Sydney Catholic Schools are thriving Catholic communities that ignite a love of Christ through excellent teaching and learning to empower students to reach their full potential.